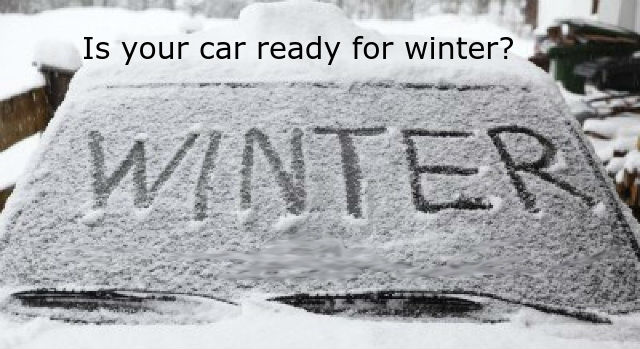 We all know Winter is cold, wet, and uncomfortable. Have you ever considered what Winter does to your vehicle? Here are a few steps to take to protect your vehicle from Jack Frost.

Check your battery. Cold weather is tough on your car's battery. The chemical reactions required to generate power in a car battery slow down in extremely cold temperatures.
Change your wiper blades and refill your wiper fluid. You need to see the road to drive safely, but the build-up of winter precipitation and salt on your windshield can greatly reduce visibility. Working windshield wipers and a solid supply of wiper fluid will ensure that you have a clear line of sight even in the nastiest snowstorm.
Check your tire pressure. If you don't replace your regular tires with snow tires, at least keep them properly inflated during the winter. Cold weather causes air pressure in your tires to drop.
Check your anti-freeze mixture. The mixture of anti-freeze and water in your radiator should be about 50:50. This will prevent the coolant in your radiator from freezing. If you want to check the composition of your radiator's fluid, you can pick-up an inexpensive anti-freeze tester at your local auto parts store.
Stock your car with emergency supplies. You never know when you'll get stranded on the side of the road in a hellacious blizzard. Be prepared by having your car packed with emergency supplies.
Change the oil and adjust the viscosity. In order for your engine to run, it needs proper lubrication from oil. Unfortunately, cold weather reduces the oil's effectiveness. The colder it is outside, the thicker the oil gets, and thick oil doesn't circulate through your engine as easily as thin oil.
Check your belts and hoses. Cold temps can weaken the belts and hoses that help make your engine run. Check them for any signs of wear and tear and have them replaced if needed.