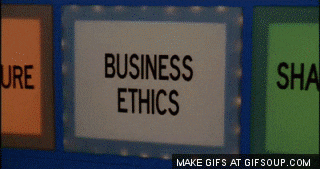 I've been in the car business for about 6 years. I have had some wonderful experiences with wonderful people. However, I have had some head scratching encounters. One of the most bizarre happened in the summer time.
The dealership was buzzing, it seemed like everyone had a customer that was buying. I was on the outside looking in, I had no customer. There is no worse feeling than having a big sales day as a dealership but not selling something individually.
All of a sudden, a beautiful, stunning, middle aged woman came into the dealership we started talking; she was a business ethics professor at the local community college. I got the credit application. I dropped the application to the manager and went off on the test drive. It was wonderful. We had a great conversation; she fell in love with the car.
We get back to the dealership; I go back to my manager. He told me her credit isn't great but we can get the deal done. I go back with her. I give her details to the deal and she signs to take the car. A couple days later my boss tells me we need more information for the deal so the bank will take the deal. I bring her in. She is pleasant as always. I explain what she needs. She agrees to give us whatever we need. My manager asks her to let me go with her so that I can verify we have everything.
She agrees.
We get into the car her face changed from this wonderful, shiny, happy face to this dark shroud of insanity. Her eyes glassed over and I'm pretty sure her head did one of those 360 spins like the girl from Exorcist. In any event, you could see something changed in this woman.
She burned out of the dealership. She started yelling at me. She asked me why I would do this to her? Why would I embarrass her in front of other people? I felt as if she was talking to me as if I was her boyfriend or someone she was going to do bodily harm to.
She says a few four letter words I cannot repeat on this post and peels back toward the dealership. She jumps toward my side of the car and opens the door. She tries to push me out going at least 50 miles per hour. She couldn't because I was at least 360 lbs and she was around 120 lbs after a big meal.
The only thing I could say at the time is, "You teach business ethics!"
We got back to the dealership. I take the car back and hopefully she got the help needed from medical personnel in the mental health field.
Thankfully, 1 Stop Auto does not have those stories with customers. We have the best customer base in the world. We are thankful for each and every person apart of the 1 Stop Family!